Harvard College delivers transformational student experiences, incomparable academic opportunities, and groundbreaking research—all because of you.
As an Associates donor, your support is vital to foundational work at the College. Through your gifts, you fuel innovation, jumpstart bold ideas, and empower students to succeed. The following stories highlight just a few of the people, places, and programs at the College that your generosity impacted last year. Thank you for your commitment to Harvard's students and faculty.
Sincerely,
Ann Akichika '88 and Jeffrey Lee '97
Vice Chairs for Associates Giving, Harvard College Fund
1,259

shared student and faculty meals through the "Classroom to Table" program

50%+

of undergraduates receive need-based financial aid

20.4


million

volumes live in the Harvard libraries

3,500+

undergraduate courses across every discipline and interest

129

first-year seminars connecting students and professors in small classes

42

varsity sports teams from basketball to water polo
Building a Better Harvard
For Barbara Alpert '77, P'20, P'18 and Michael Kaufman '75, JD '79, P'20, P'18, making an unrestricted gift to the Harvard College Fund is a chance to make a difference. "When you give to Harvard, you are contributing to individuals and research that have the greatest potential to transform society," says Alpert. "How many of us ever have the chance to make a gift that could result in such an enormous impact?"
The couple like knowing that their philanthropy helps create additional opportunities for undergraduates who might not otherwise afford to attend. They've seen the talent and diversity of the student body in both their sons' classmates and witnessed it themselves. "Our college experience allowed us to be a part of an institution that brought together extraordinary people," says Kaufman.
Because current-use, unrestricted gifts such as those from Alpert and Kaufman can be used immediately and flexibly, Harvard has the agency to sustain its essential mission, seize new opportunities, and respond to emerging needs, using the funds where they are needed most.
There is no limit to how unrestricted giving shapes life and academic opportunities at Harvard today, from funding lab equipment to supporting summer research opportunities to expanding financial aid.
No Grades for Lessons Learned
Grade point averages don't always tell the full story. "Harvard is already very good at recognizing students who receive top grades. But we should do more to recognize the curiosity-driven intellectual journey that college is meant to be," says Dean of Arts and Humanities Robin Kelsey (pictured), who
is also a Shirley Carter Burden Professor of Photography.
To encourage that exploration, Kelsey created a new initiative this year called the Transcript Project. To participate, students were invited to submit a piece of work (an essay, musical composition, or poem) that reflects an intellectual journey not captured by grades. Alana Davitt '19, Amanda Flores '18, Michelle Ko '19, Paul Lewis '18, Sarah Perlmutter '19, and Audrey Pettner '21 won this year's contest.
In her essay, Pettner wrote, "My transcript is my canvas, washed, painted, and stretched (admittedly even a little frayed in some places) by the rigor and diversity of the courses I choose. Some areas are light, atmospheric, and delicately composed of unusual subjects, like Irish Mythology. Others are wrought with the messy, jagged brushstrokes of anatomy and physics—perhaps a little tortured, but no less powerful to behold. My courses are not individual boxes to be ticked on a checklist to graduation, but rather a nuanced palette of academic experiences."
Academic Achievements
New discoveries and fields of inquiry abound on campus.
Doing what no other archeologist has done before: Last summer, Manny Medrano '19 (pictured) was the first to crack the code of an ancient mystery, centuries later.
He discovered a system of accounting using khipu, a knotted rope system used by the Incas.
Two years later, with Professor Gary Urton's guidance, Medrano is now an emerging scholar who has helped translate and understand primeval voices.
Recruiting leading faculty to strengthen campus conversation: Harvard has appointed Philip Deloria as its first tenured professor of Native American history. "The Native students here are tremendous, and there are lots of students from all over who are interested in indigenous studies. I want to pitch in and do what I can to help us imagine something at Harvard that is even greater than the sum of all these very strong parts," says Deloria.
Finding new ways to look at education: This fall, undergraduates who want to pursue an intellectual exploration of education can do so through a new secondary in educational studies. The multidisciplinary track through FAS and the Harvard Graduate School of Education will require five approved courses and a capstone project.
8,797 alumni,
parents, and
friends make up the
Harvard College Fund Associates community.
Harvard College Fund Associates gathered at 30+ events around the world last year.
Harvard College Fund Associates made more than 23,000 gifts last year.
Funding Opportunity
For those applying to college, affordability is a game-changer. Hailey Davis '18 promised herself that she was not going to graduate with debt. Harvard's financial aid program was one of the most compelling reasons she applied, and she still couldn't believe it when she was accepted. For her family, Harvard would cost less than her state school in Maine.
She is one of so many students—more than half of undergraduates—for whom a Harvard journey has been made possible by donor support. Associates donors help ensure that a Harvard education is affordable to all admitted students, regardless of financial circumstances.
Since the Harvard Financial Aid Initiative (HFAI) launched nearly 15 years ago, Harvard has awarded $1.8 billion in need-based grants.
The policy not only helps create a diverse and talented student body, it ensures that students can take full advantage of the Harvard experience with start-up grants for books and computers, financial assistance for winter coats, meals during academic breaks, and study abroad. "I talk a lot about how grateful I am for financial aid. I would never have been able to come to Harvard without it," says Davis, who had wanted to attend because of the College's academic excellence and unparalleled opportunities. "Harvard has so many resources available for students, and it helped me make the most of my College experience."
Associates donors, such as Michael Luskin '73, are essential supporters of this mission. "I remain firmly committed to need-blind admissions and to financial aid. I am inspired by the idea that if you get into Harvard, the money won't be the hurdle, and you can go," he says.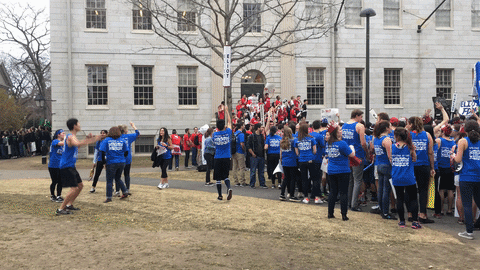 Living and learning communities are home to 97 percent of upperclassmen. And never are the deep community ties of the Houses more evident than when hundreds of students take to the Old Yard resplendent in tie-dyed shirts, moose costumes, and body paint for Housing Day.
First-year students lean out windows and wait for footfalls toward their rooms to find out where they'll be living for the next three years. "Some of the freshmen might be a little frightened to see us," said Pforzheimer House resident Julius Wade '20 during last April's Housing Day. "But I think they will learn to love us."
Creative Ties
What makes friends from college like no others? In July 2017, Francesca Delbanco '95 and Nick Stoller '98 debuted an edgy TV comedy on Netflix to explore that very question. Friends from College follows the antics of a fictional group of Harvard alumni, 20 years after graduation. The second
season begins January 2019.
The husband-and-wife team say that Harvard is never very far from their creative endeavors. "There's no way to overstate how much those [Harvard] relationships are still at the center of our lives," says Delbanco.  Stoller agrees. "Everything in our lives goes back to Harvard, ultimately."
Rhys Williams '87
Rhys L. Williams '87 was a fifth-generation South Floridian when he arrived in Cambridge with two sweaters to his name. He quickly adjusted by becoming a government concentrator, attending ROTC classes, and even leading a victorious "first-ever snowball fight" between student teams from Florida and California.
He remembers his Harvard experience as transformational. "It was amazing to be surrounded by brilliant, creative people—all the best in their respective fields—advancing science, the arts, and technology," he recalls.
He likes knowing that his generosity to Harvard ensures that other students—who may need financial aid and work study jobs—will be able to enjoy the same experience. "It makes it incredibly rewarding to help Harvard continue its deep commitment to making sure the best students can attend, irrespective of financial status," says Williams, who lives in South Florida with his wife Lorna and works as managing director of Florida Atlantic University's Tech Runway.
"As a regular donor to Harvard, I feel like I'm empowering our best minds to shape the future and build a better world."
-Rhys Williams '87
He and his wife are active philanthropists in Florida but prioritize their giving to Harvard because of its broad-scale reach. "The number of ways that you can have long-term and meaningful impact as a donor is not as plentiful as you might think," Williams says. "I know that the Harvard family does amazing work in every part of the globe. As a regular donor to Harvard, I feel like I'm empowering our best minds to shape the future and build a better world."
In addition to having served as a Special Forces Captain in the U.S. Army and a combat diver, Williams is an active volunteer for Harvard. "It's very satisfying to be connected to this mission, connected to something much bigger than myself," he says. When he learns of fellow classmates who have also given to Harvard, he feels a special affinity with them. "I feel like we share a unique bond and a higher level of connection."
Grand Finale
Five years after setting an ambitious goal for The Harvard Campaign for Arts and Sciences, the Harvard community celebrated its hard-won culmination this past June. At the heart of its landmark success were more than 73,000 households of alumni, parents, and friends who made more than 300,000
gifts to support the Faculty of Arts and Sciences (FAS).
Their generosity and advocacy was inspired by the leadership of President Emerita Drew Faust, who stepped down from her post on June 30 after 11 years of strategic service to the University.
These resources help recruit more faculty; renew the Houses; forge a new path for science and engineering; sustain FAS's financial aid policy; and provide leadership with unrestricted, flexible funds that transform ideas into action, changing lives in the Yard and around the globe.
New Leaderboards
Standout athletes brought new acclaim to Harvard record books this year. Gabrielle Thomas '19 became the first Ivy League women's sprinter to win an indoor national title. She broke a 10-year-old record in the 200-meter sprint at the NCAA Indoor Championships in March and went on to
the Outdoor Track and Field Championships in Eugene, Oregon, where she placed second.
Three other Harvard College students and alumni competed at the 2018 Winter Olympics in PyeongChang, where Randi Griffin '10 scored the first-ever goal for the unified Korean women's national ice hockey team and Ryan Donato '19 and Noah Welch '05 played for the U.S. Men's Olympic Ice Hockey Team.
And back in Cambridge, the baseball and softball teams can now strive for new heights with the unveiling of the Kaplan Family Hitting Pavilion, a 6,500-square-foot facility that triples the teams' practice space. The pavilion was made possible by the lead generosity of Jean and Stephen Kaplan P'18, who were joined by 75 other alumni and parents from both programs in funding the much-needed facility. "Steve and I are delighted to support the new Harvard hitting pavilion," Jean says. "We are particularly pleased with the overwhelming participation of the Harvard softball community."
Where Everything Is Possible
Emily (Famutimi) Feirman '03, JD '06 found herself getting more nostalgic about her Harvard years after becoming a "grown-up," as she says, getting married and having her first child. "My Harvard friends were so supportive and helpful during that time," she reflects. "It really made me think about where it all began."
For Feirman, that start was shaped by friends from Holworthy Hall West and Lowell House, experiences as a Phillips Brooks House Association volunteer, and her surprise concentration. "As part of the (then) core curriculum, I took a science class that was all about human evolution, primatology, and human ecology. I was thrilled to learn that it was an intro course to an entire concentration! Within a week, I had switched from government to anthropology," she remembers. "I was never going to be the next Jane Goodall, but what an opportunity it was to study with world-leading professors in this field that I would never have considered otherwise."
She volunteers for Harvard and gives back because she likes knowing that doing her part may allow others to have similarly positive college experiences.
However, when pressed, she first thinks of her gratitude. "Harvard gave me a voice, a platform, a purpose—and my Harvard friendships have given me joy, strength, and courage over the years. I am grateful for the time that I spent there and grateful for the opportunity to stay connected, in my own small way, to the College and to the University at large."
She is now a lawyer in New York City but finds time to return to Cambridge. She recently met up with her freshman year blockmate and his two young children and spent one gloriously sunny day in Harvard Yard (pictured above) with her husband and two boys. "My four-year-old keeps asking when we can go back to Harvard, which, at the moment, he thinks is a place you go to blow bubbles and play hide-and-seek," says Feirman.
"I want to continue to be a part of this community and to be around the people who have made such a difference in my life," says Feirman, a 1636 Society member who has given annually for a number of years. "Whatever happens in our lives, Harvard gave us a start. I give back because of this place where, at least for four all-too-short years, everything is possible."
Community Comeback
Winthropians returned in August 2017 to an old favorite—made better. "It still has that very Winthrop feel," said Kristen Althoff '18 of her House, which was the fourth to undergo Renewal. This Harvard home now offers 15,000 feet of social space, a new rooftop commons, and an expanded dining hall, not to mention a meditation room, arts spaces, and a student grille.
Launched in 2012, House Renewal is the largest capital project in the history of the Faculty of Arts and Sciences. Six years later, Harvard is closing in on the renewal of half of its River Houses, enhancing nearly 800,000 square feet. Renovations are underway at Lowell House, and Adams House will follow in the summer of 2019.
The generosity of the Associates community makes these milestones possible by supporting every aspect of House life and the intergenerational relationships that flourish there. Students meet over more than five million meals served in the dining halls each year. They can seek out the advice and guidance of nearly 300 resident tutors. There are countless opportunities to connect, whether it's with faculty at Physics Night in Leverett, with creative blockmates in the Kirkland Drama Society, or with friends taking a break to watch football at the Dunster Grille.
"The word 'transformational' has been used in terms of House Renewal, and it's such an apt description. The way people interact, the way they enjoy the spaces, the pride they take in the House, the ease of living…it's made a world of difference," says Siri Chilazi '10, a non-resident tutor for Leverett House and proud Associates donor who was a resident tutor during the first project to renovate McKinlock Hall at Leverett House.
Chilazi's giving is motivated by being part of a continuum of alumni. "We have these resources because the people before us—whether it's two years, 20 years, or 200 years ago—had the foresight to strive for something better," she says. "If we stop now, the Harvard of tomorrow won't offer the same experiences or amazing opportunities."
Greek Tragedy on the Home Field
A century after Harvard borrowed from ancient architecture to design the Stadium, the landmark became the backdrop for another Greek classic: Antigone. As part of ARTS FIRST, a group of undergraduates staged an ambitious production of the tragedy.
Most Ever
Harvard admits the most diverse class ever, chosen from a record-breaking 42,749 applicants. More than half will receive financial aid, 12 percent will come from other nations, and 16.6 percent will be the first in their family to attend college.
Sun Spot
Harvard may not have been in the path of totality, but on campus, eclipse fever was all-encompassing. Everywhere around campus, crowds of students streamed out into the Yard, Science Center, and beyond to take in the celestial wonder.
Thank You Tour
Associates donors ensure Harvard is a dynamic and innovative place for students and world-class faculty to discover, explore, and learn. And to thank them, Harvard hosted a series of events around the country and brought this special community of foundational donors together.
Last November, Associates donors gathered in cities across the country for regional events. Parent Associates had additional opportunities to connect at the annual Junior Parents Weekend Associates Reception and Parents Leadership Weekend. And on the evening before The Game, a group of President's Associates joined Harvard University President Emerita Drew Faust at the Conrad New York for her final year as host of the annual President's Associates Dinner.
As the academic year came to a close, Associates donors on campus for Reunion or Commencement activities made a point to attend the new Harvard College Fund Leadership Recognition Reception in Cambridge to toast to the collective impact of this community of leadership donors.
"This is such a vibrant and engaged group," says Ann Akichika, Vice Chair for Associates Giving. "While we all come from different classes and parts of the world, we are energized by the same motivation—to help shape Harvard's vision for the future and make it possible for Harvard leadership to respond to challenges and stay committed to access and excellence."
Paying it Forward
Nearly 100 soon-to-be alumni stepped forward as volunteers for the Senior Gift campaign, representing the largest senior class fundraising committee in recent years. Many cited financial aid, student wellness programs, Classroom to Table, and House life as reasons for their support.
Others were motivated by knowing their Harvard experience has been shaped by alumni who've come before them. "I gave to Senior Gift because my four years here have had so many great opportunities, and I have met so many incredible people," says Anna Wechsler '18 of Adams House. A total of 840 seniors made gifts to the Harvard College Fund.
Harvard College Fund Associates hail from 76 classes, from 1942 to 2018.
Harvard College Fund Associates come from all 50 states and more than 50 countries.
Harvard College Fund Associates contributed more than $38 million in critical unrestricted dollars in FY18.
Boomtown
Eleven years ago, the Harvard John A. Paulson School of Engineering and Applied Sciences (SEAS) began as the place where engineering, foundational science, and liberal arts converge. Ever since, SEAS has led with boundary-breaking scholarship, an unparalleled assembly of top faculty and graduate students, and boundless opportunities still to come with construction underway on the new Science and Engineering Complex in Allston.
Today, SEAS pioneers injectable vaccines for immunotherapy, amphibious robots, artificial pancreases, and flow batteries.
And undergraduates have taken notice  by seeking the chance to take on real-world challenges and learning to be entrepreneurial. With students flocking to CS50: Introduction to Computer Science, the Science of Cooking, and The Innovator's Practice: Finding, Building and Leading Good Ideas with Others, enrollment is skyrocketing. More than 1,000 students have chosen to concentrate at SEAS (20 percent of all sophomores, juniors, and seniors, collectively). This fall, undergraduates will have the option to take a new concentration at SEAS (Harvard's 50th) in environmental science and engineering.
Associates support has been key in helping SEAS grow faculty, facilitate teaching innovations, and serve as a hub for entrepreneurship.
"We are at an incredible inflection point here. We are at a moment of unprecedented growth," says Frank Doyle, John A. Paulson Dean. "Things are taking off on student numbers, we're recruiting world-class faculty, we've got this space, we've got the partnerships across the Harvard ecosystem....We've got all these things happening at this point in time. I cannot imagine a more exciting time."
In This Place (An American Lyric)
College junior Amanda Gorman '20 just finished a yearlong appointment as the United States' first National Youth Poet Laureate. What's next for the Leverett House resident? The poet plans to run for president in 2036. "It's not enough for me to write," said Gorman. "I have to do right as well."
House Opuses
Members of the American Modern Opera Company spent a nine-day arts residency at Harvard holding open rehearsals; workshops; and jam sessions in the Houses and the Harvard Innovation labs (i-labs), a new space in Allston that serves as a hub for student innovation. The company, performing here at Pforzheimer House, was started by Jennifer Chen '11, Matthew Aucoin '12, and friend Zack Winokur.
Sunny Forecast
Nearly 2,000 students became Harvard's newest alumni on May 24. For Harvard's 367th Commencement, class speaker Chimamanda Ngozi Adichie told seniors "be the author and owner of your own transformation," and Commencement speaker U.S. Representative John Lewis LLD '12 urged, "When you see something that's not right, not fair, not just, stand up, say something, and speak out."